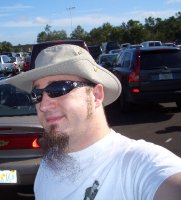 Just what is Ubuntu's Community Manager hiding behind that beard?
Find out in BehindUbuntu's revealing interview with our very own man of metal, Jono Bacon.
Learn of his love for Florida, Sausage Dogs and bash.org! Open your mouth wide in shock as he slips in a full two sentences pimping Jokosher!
You can also find out about Jono's views on:
LoCo team mentoring – successful teams help newer teams get up and running;
The importance of karma-style systems;
Clear communication as the basis of good community.
Meet the man behind the beard, in BehundUbuntu's interview with Jono Bacon.