If you're interested about Ubuntu usage in the Cloud, and if you haven't yet checked out the Ubuntu Cloud Portal, I've got news for you, you're missing out on some fun. Check out
http://cloud.ubuntu.com/
. The Cloud portal is designed to help someone who cares about but is new to Ubuntu and the Cloud quickly find resources of interest. Let's quickly zip through different pages
The front page offers an edited stream of rolling Ubuntu and cloud news. These are hand picked articles and blogs that are low volume and with a high signal to noise ratio, if you'd like to be updated, but don't like being flooded with every little detail. You can follow the front page's RSS feed at http://cloud.ubuntu.com/tag/featured/feed/. The front page lets you check out latest tweets around ubuntucloud as well. If you're wondering where those hand-picked items are picked from, they are picked from the Ubuntu cloud planet page, which is a large aggregator collecting Ubuntu cloud news. If you don't want to miss a beat, subscribe to planet cloud RSS feed.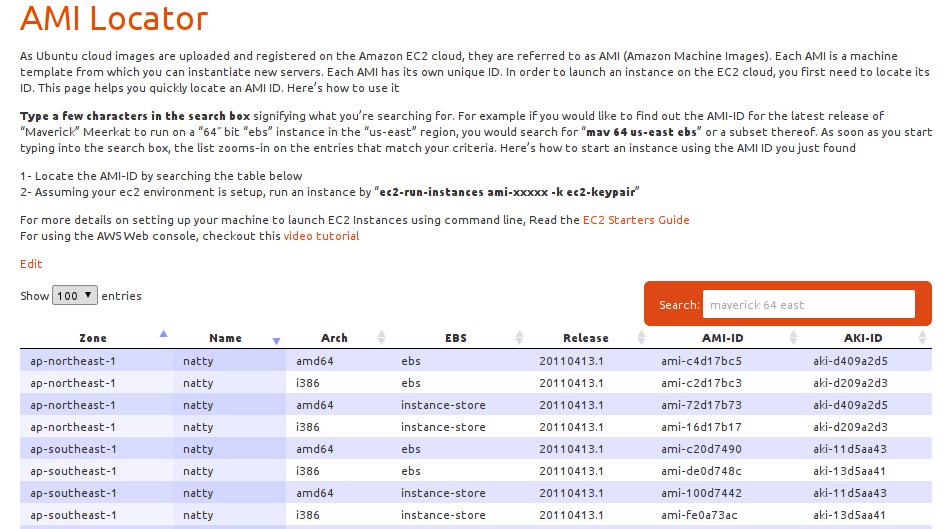 The menu on the front page links to
Ubuntu AMIs
page, this is such a nice tool for anyone who works with Ubuntu on the EC2 cloud! Basically to launch "instances" on the ec2 cloud, you would need to know an ID number corresponding to the instance that you'd like to launch. That page helps you find that number quickly and easily. The easiest way to use it, is to type a few search criteria describing the search criteria of the image you're looking for, like (maverick 64 us-east) the table zooms in on the AMI IDs that you need, nice!
A Documentation page provides a high level overview of important and useful docs pages. Most content linked to is actually on the Ubuntu wiki, which means not only do you benefit from the information there, but you also can help make it better! The Ubuntu community collaborates around editing and updating the wiki content to make sure it's always up2date and useful. The docs talk about UEC, the Ubuntu Enterprise Cloud, a private cloud open-source product based on Ubuntu and Eucalyptus. Other topics covered include Cloud-Init an Ubuntu originated cloud configuration bootstrapping technology, as well as various guides to using and customizing official Ubuntu cloud images. And while you're at it, don't forget to check out the videos for a  bunch of really nice short screencasts demo'ing Ubuntu cloud common use cases.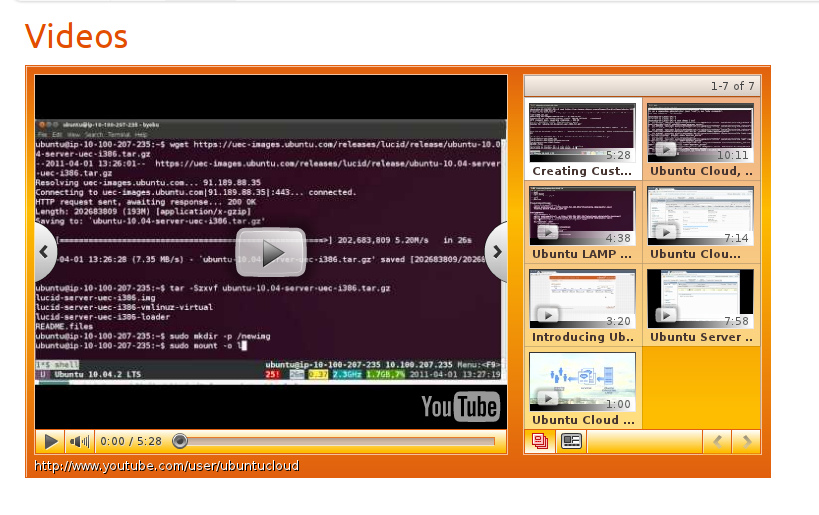 If you're ready to start interacting with the Ubuntu cloud community, be sure to check out the
Get Involved
page. It easily shows the different paths through which you can connect to the Ubuntu cloud community, from mailing lists, irc rooms, forums, to social media. You might be especially interested in attending the cloud community weekly IRC meeting (every Wed 6pm-UTC). The meeting was just re-launched by merging weekly updates from the next-generation cloud orchestration project
Ensemble
! Here's the first meeting's
summary
. If you want to get really deeply involved, check out the
development page
for a nice collection of Cloud related ubuntu projects that you can start getting involved with. Not only do you are programmers able to help with these projects, but also other talents such as bug triagers, people with talent for exposing bugs, docs people who make it easier for the rest of the world to install and configure software and various others. If you're interested in any of that, have questions or comments, be sure to ping
Ahmed Kamal
who can answer your questions and get you started.
(Submitted by Amhed Kamal, Ubuntu cloud community liaison)