After two years of intense work, the Debian project has published a new stable release.
You are welcome to read the full release announcement to get an overview of the changes, the installation manual if you are doing a fresh installation and the release notes before upgrading your systems.
Choose your preferred installation media from http://deb.li/squeeze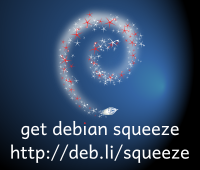 Also, don't miss checking out the new design of the Debian website, Debian Wiki, Debian Lists Archive, Debian Planet , package information system and Debian Git web.
Thank you to everybody who made it possible!
Originally posted by Ana Guerrero on news.debian.net on 6 February 2011