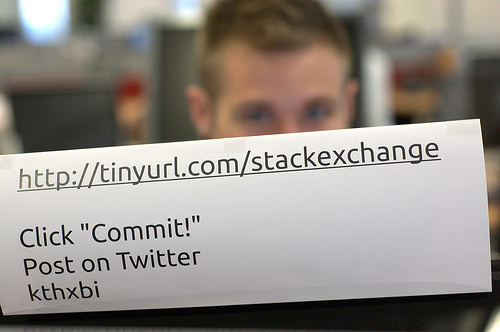 Evan, seen lurking here in the background, has a favour to ask. Stackoverflow is a website that allows professional and enthusiast developers to ask questions of one another in order to share ideas, solutions and make the life of developers better. It's an extremely high quality resource but those clever folks over at Stack Overflow aren't content to stop there!
They have another site they call Area 51. This is where groups of people can propose custom sites based around Stack Overflow for their own projects. This is where Evan's favour comes in as he, like many of us working on Ubuntu, would like to have a really great place to send people with questions about Ubuntu. Not only that but one that's already got an army of intelligent helpful people helping one another – with a healthy collection of Ubuntu users in there too I'll wager.
A stackexchange powered solution would be nothing short of amazing and YOU can help!
But how do I help, Iain?
I'm thrilled you asked!
1. Visit the Ubuntu proposal page on stackexchange.
2. Register and vote for this proposal.
Then while you enjoy a celebratory cup of tea and a biscuit think of ways to spread this as far and wide as you can.
Let's tweet www.tinyurl.com/stackexchange using #ubuntu and put up signs in our offices, and send each other pictures of these signs in our offices!
Tell your brothers, sisters, friends, lovers, mothers, ex-lovers, ex-mothers … wait that doesn't work … get a tattoo!*
If you can think of any other ways of getting this out there tell us in the comments! Thanks for listening and good luck. We'll follow up with progress
At time of writing we have 76 people committed!
*Seriously, really don't get a tattoo
[Discuss Vote now for a more supportive future! on the Forums]
Originally posted here by Iain Farrell on July 14th, 2010