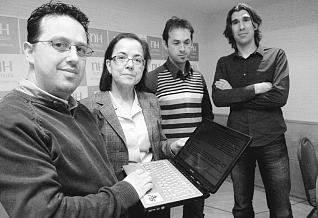 Spain has a rich language diversity. While the main official language is Spanish, there are several regions in which it coexists with others with the same or similar degrees of official recognition. These are Basque, spoken in the Basque Country; Catalan, spoken in Catalonia, the Valencian Community and the Balearic Islands; and Galician, spoken in Galicia.
Asturian is yet another language spoken in the region of Asturies, in the North of Spain, and it is special in the sense that it does not enjoy official status but there is a regional law that contemplates its promotion and protection. However, this still means that there are no public or private initiatives to make it available in IT and the newer technologies.
Enter the Ubuntu Asturian LoCo.
Born from within a group of volunteers in Softastur, a mixture between a LUG and a translation group in the Asturies region, they coordinate all the activites in the many Open Source projects in which they participate, Ubuntu being their main focus. They are a very active bunch, organizing events every couple of weeks, mainly install parties, but also presentations in schools and Ubuntu installations on Internet computers in local pubs. But their enormous translation activity is what is truly impressive: one of their members was the top Launchpad translator for 2 years in a row, and 3 more were regularly on the top ten. They are our true translations legends.
Most remarkably, their effort, Ubuntu, and Launchpad have converged in a powerful combination to produce the first OS ever in Asturian language.
But not being known for resting on their laurels, the Asturian crew have also been the driving force behind the subject of today's LoCo story: the migration of the Asturian Language Academy to Ubuntu. They are working together with this regional government institution to migrate their equipment to Ubuntu. A move that sets an important milestone in the introduction of Ubuntu in the regional government of Asturies, to be hopefully followed by other governmental bodies.
The event that marked the start of the migration consisted in a press conference on Friday 9th April, run by the Asturian Language Institute and Softastur, in which they announced the project to the media and where I had the pleasure to participate representing Canonical, Ubuntu and Ubuntu Translations.
The main topic covered the collaboration between Softastur and the Language Institute in this migration, along with the concept of free software, Ubuntu and its philosophy. Another important aspect were translations, how Ubuntu could be translated into almost any language and the possibilities this opened for minority languages. The event was then closed with a demonstration of Ubuntu in Asturian. There was good press coverage: it was broadcasted by two regional TV stations, and several newspapers, radio stations and a news agency attended and reported on the event.
This is just a sample of the projects they are running, but a very inspiring one to all other Ubuntu LoCo teams and Open Source advocates around. If you happen to meet them, do ask them about their other ideas, and in true Ubuntu spirit, make sure to give them a hug!
Links