It's the day before November and all already the house, there wasn't a sound, not even a mouse. About the front, astride the door, a pair of surprises stood, waiting to pounce: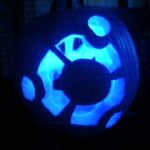 S
u
r
p
r
i
s
e
!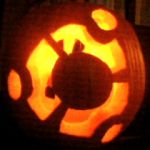 Over at the Ubuntu Forums the ever mysterious "s_h_a_d_o_w_s" has uploaded some excellent pictures of carved Kubuntu and Ubuntu pumpkins prepared for Halloween. Congratulations on the detailed work.
Perhaps if any Trick or treat'ers knock on your door today, you can offer them a nice shiny Ubuntu CD!