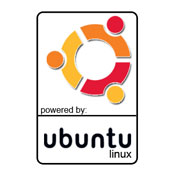 Ubuntu Schwag
Our fantastic friends at the Linux Emporium are providing UK Ubuntu fans with the opportunity to get their hands on the legendary Ubuntu Stickers that so many other users have been getting their hands on. If you want some free Powered By Ubuntu stickers for your computer, you just seen to send a Stamped Addressed Envelope (SAE) to the Linux Emporium.
For details of how to get a strip of 4 free stickers, see this page.
Once again, thanks to System 76 for creating the stickers, and thanks to the excellent Linux Emporium for helping the community get stickers!