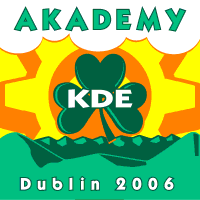 Join the KDE Akademy Konference
Over at Dot.KDE the KDE developers have been getting excited and prepared for their annual Akademy Konference (yes, in Germany 'Konference' really is spelt with a 'K'!).
The final schedule is now up and if you're wondering how to get there, it's in Dublin at Trinity College. Dublin is of course the home of Guinness, that most healthy of beers and noted favorite of a gentleman called Linus Torvalds.
We've found out that Kubuntu helped out with the sponsorship for Akademy this year and that in 2007 the event is due to be held somewhere in Great Britain. Some of the best information about what's going to be happening comes from Kubuntu's Jonathan Riddell who gives us a run-down of the conference:
The Birds of a Feather sessions are filling up fast, including sessions on Strigi the exciting new desktop search framework, Kubuntu with Mark Shuttleworth, GPL v3 with the Free Software Foundation Europe, a beginners Qt Tutorial from Mirko Böhm, the HCI day on Wednesday and many more.
See if you can get yourself there to join in. Akademy starts this weekend and runs until the following Saturday.