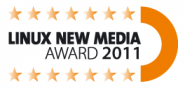 Last Thursday I had the honour of accepting the "Linux New Media Award 2011″ in the category "Reader's Choice – Favorite Linux" . Linux New Media is an international publisher of Linux magazines and has been giving out these awards for a number of years now. This year included a new category in which the winner was determined by the magazines' readers voting on their favourite Linux distribution. And the winner is … Ubuntu!
Some strange circumstance put me in the spot of being at the CeBIT show in Hannover and accepting the award on behalf of the Ubuntu community. I realized that I am just a very small piece of that community which includes Canonical employees as much as the hundreds of volunteers that helped it become so popular. I made sure to mention those in my acceptance speech as well as the well-known "shoulders of giants" on which we stand. The award was presented by Kristian Kißling, chief editor of the German "Ubuntu User" magazine.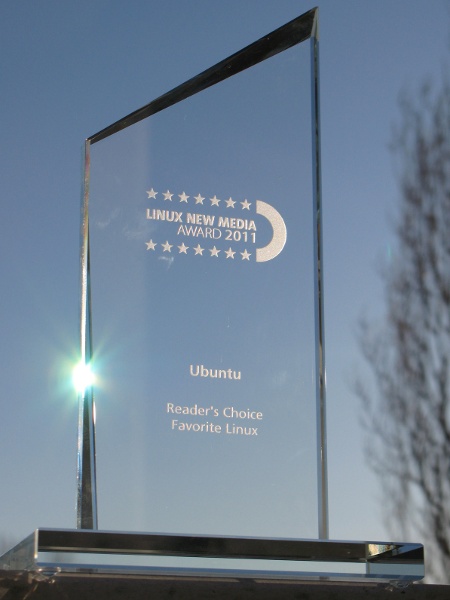 So, if you are working on Ubuntu or any of the open source projects that it builds on, this is YOUR award! Congratulations and thank you very much! Well done! This award shows that we are on the right track and we should take it as an encouragement to continue to make Ubuntu shine even brighter and take it beyond the realm of the Open Source community.
Among the other recipients were our friends from Debian which received two awards, one for "Best Server Distribution" and also the main award titled "Outstanding Contribution to Open Source / Linux / Free Software". The remaining categories and their winners were:
As you can tell, there are still some other categories we could win prices in although only the "Outstanding Contribution" and "Most Innovative Project" ones are awarded every year.
I was thrilled to meet Jon "maddog" Hall, Klaus Knopper and Karsten Gerloff of FSFE. Here is group picture of all recipients and their presenters.
Originally posted here by Henning Eggers on Monday, 7 March 2011